Photography
Our photography is an important factor for creating an emotional connection to our brand. It adds depth and context to the stories we tell. It reflects the diversity and relentless spirit of our customers in authentic and thoughtful ways. Our audience should see themselves in our photography—so it's important to capture moments that feel real and accessible, while also sparking curiosity and inspiration.
Browse our library of Brand-managed photo shoots on the DAM (access required).
Photography point of view
In addition to the design principles, four points of view further our vision specific to photography: human, relentless, futuristic, and smart.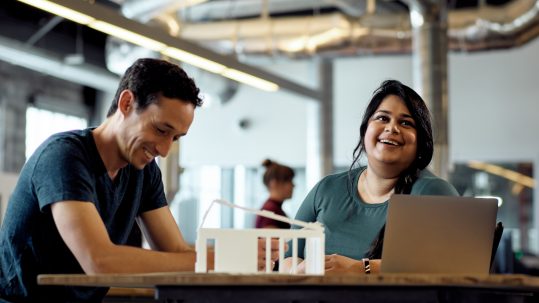 For portraiture, we recommend veering away from photos that seem posed or perfect and taking a more editorial approach. Let's capture moments that feel authentic and candid.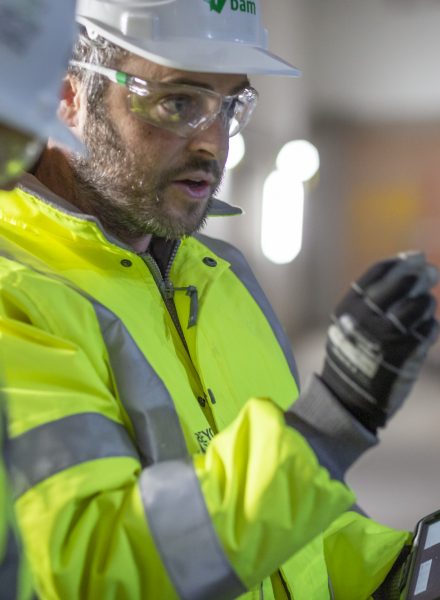 The subjects should feel relatable, relaxed, and imperfect. Seeing the subjects with their eyes closed while laughing or with faces that aren't retouched are great ways to make them seem more relatable and human.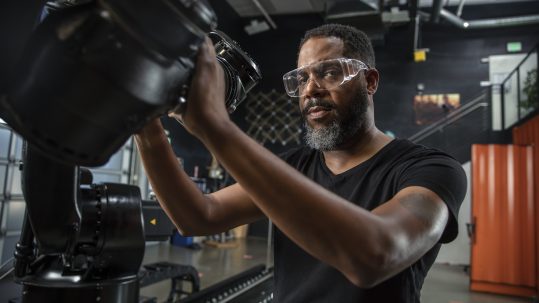 Conveying relentlessness requires showing people who are working in their element and don't have time to sit and pose for us. People should feel less staged and more like they are pausing for one moment before they get back to work. Or are so immersed in their work that they don't even realize the camera is there. We're also not afraid of a bit of mess—the work environment hasn't been cleaned up and they're surrounded by their passion.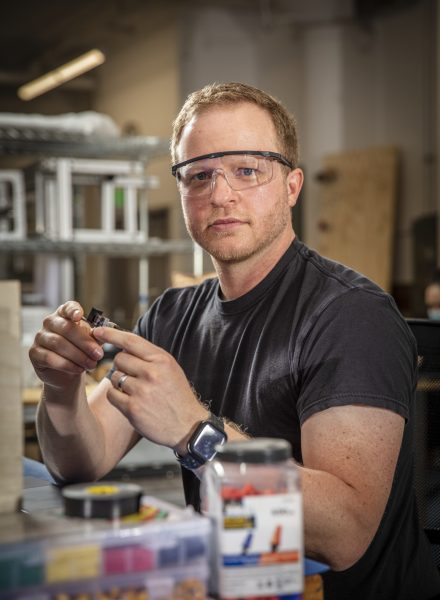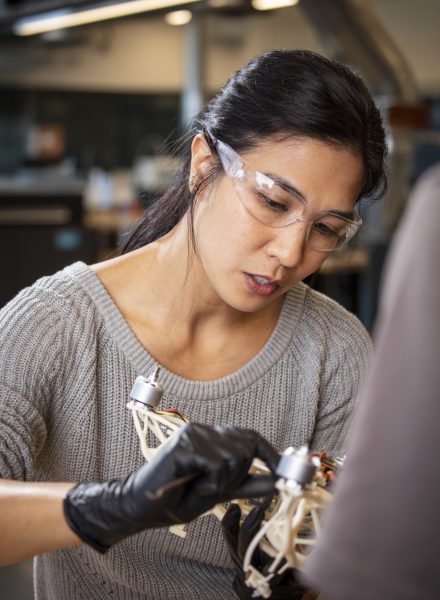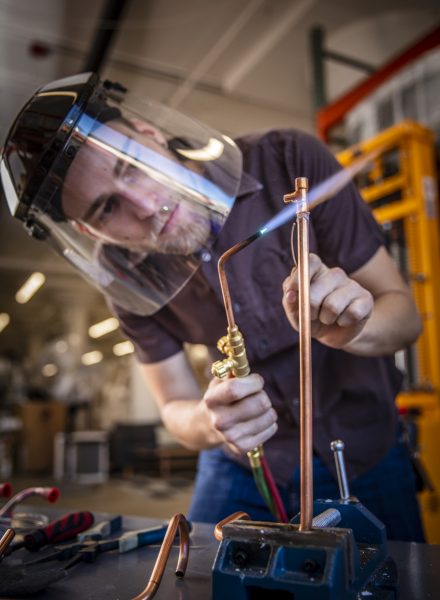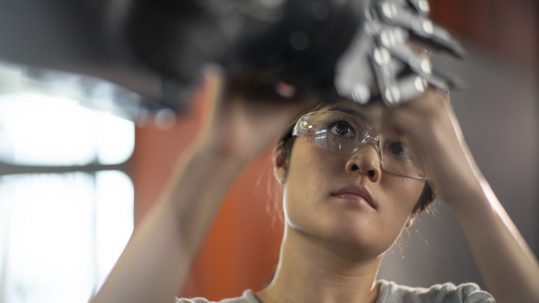 When conveying futuristic qualities, it is important to ground photos in a sense of humanity. This can be done by showing humans interacting with the technology they are creating. Even if it's just a hand or a person in a suit, showing the participation of the 'present' in the building of the future will help a viewer feel connected to it.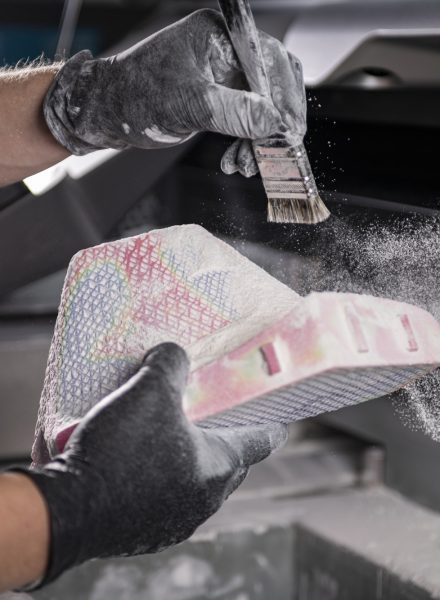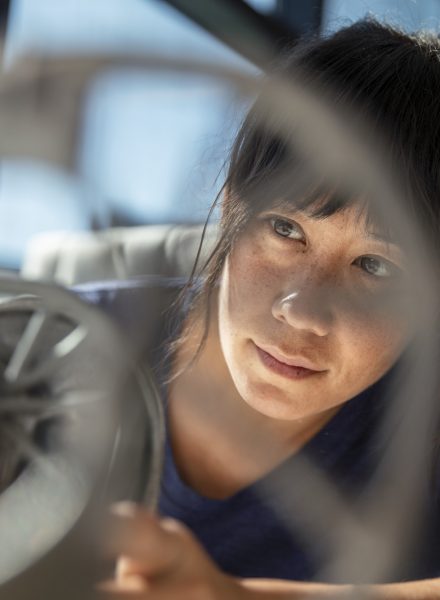 Another important component is to make the products and subjects in the environment feel real. Details like nuts and bolts, showing something under construction, or a product that is still in unassembled pieces will reinforce the realness and accessibility of technology.
People who use Autodesk are innovative problem solvers who are driven to make the world a better place. They're humble, smart, and curious. Never boastful.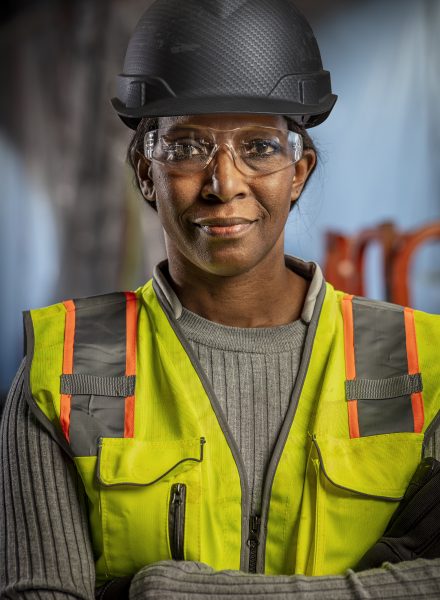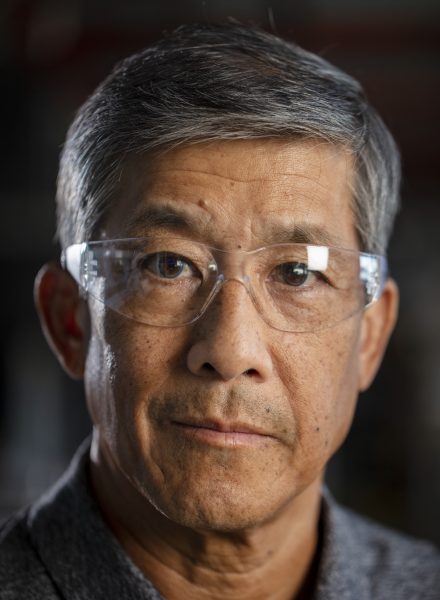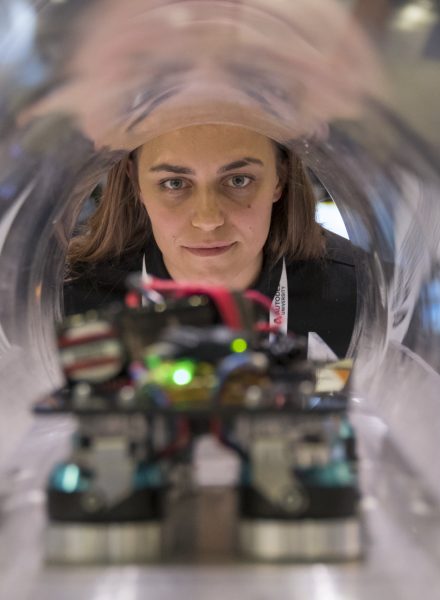 Some ways to show this are confident eyes and face, a camera that's not too low, a wardrobe that looks smart and practical for the job at hand, and lighting that highlights a person's face. "Smart, not smug" could be translated visually by capturing vulnerability, or subjects not trying to look good. Our goal should be to capture a range of emotions that mirror the passion, fervor, and humility with which people approach their work.
Portraiture
Portraiture should capture the humanity and drive of Autodesk people and partners, focusing on the unique personalities and perspectives they provide.
Some don'ts
Avoid unnatural smiles and expressions.
Avoid too harsh of a flash that washes out details.
Avoid pointing at devices (not obstructing screen)
Reportage
By using a style similar to documentary filmmaking or journalism and focusing on the single-minded curiosity and hard work of our customers, reportage presents a commentary on Autodesk's role in society.
Some don'ts
Avoid arms and expressions that feel posed.
Avoid clothing that feels unnatural or would belong in a fashion shoot.
Contextual stills
Still-life imagery is helpful in revealing the context of the overall story by showing how things work, conveying concepts, and presenting details.
Some don'ts
Avoid shot angles that are not conducive to the storytelling.
Avoid backgrounds or foregrounds that feel set up.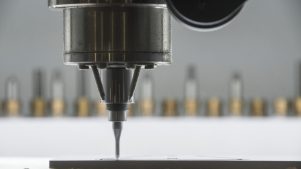 Image composition is one of the many ways the Autodesk brand story can manifest.  Here are some considerations and tips when composing an image:
Adhering to the rule of thirds or leading lines creates a dynamism in the image that reflects the relentless drive of the Autodesk ethos.
Keeping the angle of the perspective at eye level creates a sense of trust, authenticity, and curiosity. Shooting from extreme or unnatural angles warps the vision and creates an imbalance between the observer and the observed.
Use depth of field to help tell the story or draw attention to the subject.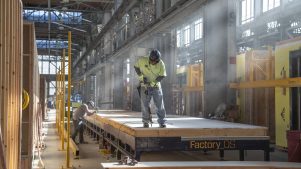 Lighting determines not only brightness and darkness but also tone, mood, and atmosphere. To create a sincere, objective, human brand, here are some considerations for lighting and color:
Use natural light or techniques that simulate natural lighting.
Avoid color washes and grading.
Don't over-coordinate color in an environment or wardrobe.
Keep post-processing within the range of naturalism.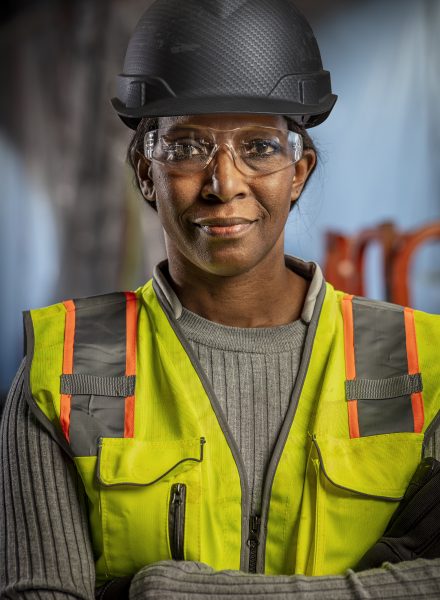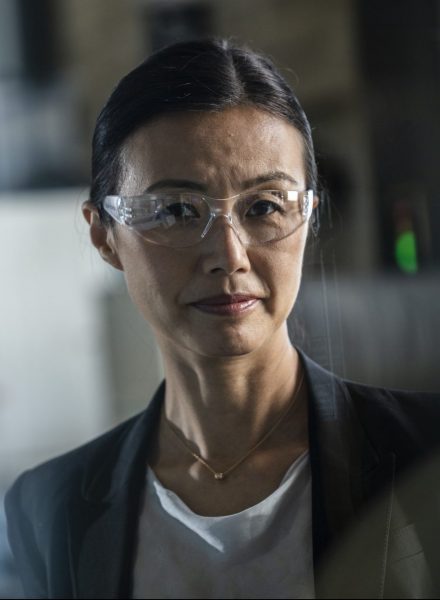 As a global company deeply committed to diversity and belonging, all of us have a responsibility to include the full range of Autodesk's customer and employee experiences across geography, gender, race, ethnicity, age, body shape, and ability. When selecting models for a shoot, aim to reflect the richness of people's stories.
Keep in mind, as well, that the scene should look authentic. People should not look like professional models, and they should wear clothing appropriate to the role or persona they are portraying. When photographed actively working on a job site, in a technology center, or in a factory, models should wear any required safety gear (e.g., safety goggles, hard hats, earmuffs, hair ties).
Technical overlays
Technical overlays add another dimension to our photography by showcasing the capabilities and power of our technology. Overlays take digital elements of a 3D model or workflow from a project and superimpose them onto a photograph of that physical object. They can highlight the digital path of a subtractive manufacturing toolpath or reveal details hidden beneath the skin of a product to give more clarity to its inner workings. Technical overlays can be used across industries at different scales and are another way to embody our brand principles in our photography. Visit the DAM for our library of technical overlay imagery.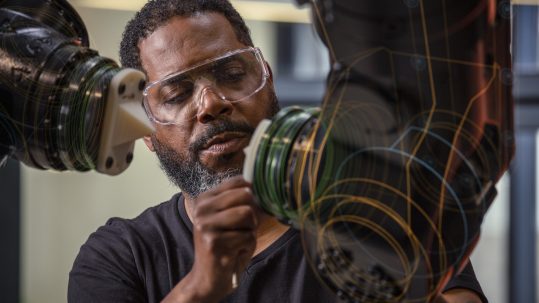 Technical overlays connect people with their ideas, environments, and passions. Representation of the data in technical overlay images can range from simple linework to color treatments to photoreal renders, depending on the story you're trying to tell.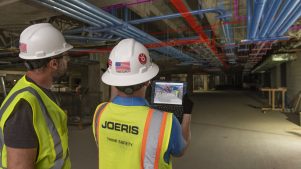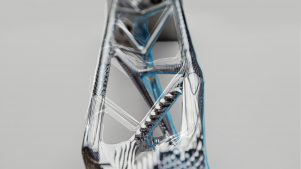 However, there are a significant number of requirements to creating overlay imagery, including customer partnership, access to project locations, and associated permissions to sensitive data. Please work with the imagery team within Brand to ensure successful project delivery.